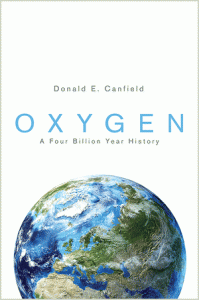 Donald E. Canfield, a Professor in ecology and originator of the Canfield Ocean Model, offers an excellent multidisciplinary introduction to how oxygen became so irrevocably intertwined with the history of life on our planet, and also how it has been shaping the geology and atmosphere of Earth.
The first chapters cover a wide range of topics connecting oxygen to life on Earth and comparing Earth's atmosphere and geology to those of several other planets and moons in the Solar System. Canfield explains how oxygen had become tied in with the evolution of life on Earth, but also how life was feasible, and most likely arose, in its absence.
The following chapters deal with the evolution and the nature of photosynthesis on Earth, depicting cyanobacteria as the 'great liberators' of our history. These 'little unassuming creatures' were responsible for turning Earth into the green planet that it is now. Canfield then examines how oxygen had first entered the atmosphere, and how it has settled at the well-known 21% mark that we live under today. The rest of the chapters are ordered chronologically following a geological time scale, describing the impact of atmospheric oxygen and the impact of concentration fluctuations on the Earth's biosphere and geology.
The book contains up to date information, and is well referenced. In addition to Index and References sections, it also contains Notes, which serve to provide a more in-depth scientific background complementing the chapters. Many of the figures would have been better placed in Notes as they tend to introduce added levels of complexity instead of simplifying or supplementing the text.
The most appealing feature of this book is its multidisciplinary approach to introducing the history of oxygen. Although many related books claim the same, in most a relatively broad introduction is followed by a much-narrowed focus, presenting their topic from only a single angle of scientific research. Canfield delivers on his promise of keeping this book relevant, educational and entertaining to anyone interested in this topic as a whole. Biochemistry, microbiology, geochemistry, and geology are examined as are the interactions between them.
Another strength of this book is that it does not simply deliver facts; instead it often offers several points of views on debated topics. The issue of alleged cyanobacteria found in the Apex Chert of Western Australia is presented, and counter-arguments are listed and described by Canfield who then leaves the conclusion to findings of current and future research.
In summary, this is an excellent book, pitched at a general scientific audience. Concepts are explained clearly and provide a jumping board for anyone wishing to delve deeper into this topic. Personal anecdotes and metaphors make this book a fun read although they sometimes clash with the flow of scientific explanations and arguments. In addition to a good general understanding of the history of oxygen, the book also offers an insight into several basic astrobiological concepts. Although what is presented is not new to those in the field, it provides a broad discussion on the possibility of life in the universe for the general scientific reader.
Princeton University Press, Jan 2015 / £19.95 (hardcover; ebook editions available) / More details
Reviewed by Katinka Apagyi, Imperial College London