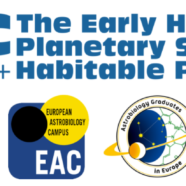 At the beginning of this August (7th-11th) the University of Tartu, Estonia, will host the Astrobiology early career scientists' conference "The Early History of Planetary systems and habitable planets" in cooperation with European Astrobiology Campus, AbGradE, Europlanet and COST action "Life Origins".
Young scientists and PhD students are welcome to participate, share their research on various topics and further their networking and contacts, while also enjoying the company of their fellow researchers.
Please note, the registration deadline is the 29th of June.
There many bursaries available for participants, the details of which along with the range of topics and talking points can be found on their website www.sisu.ut.ee/eac.